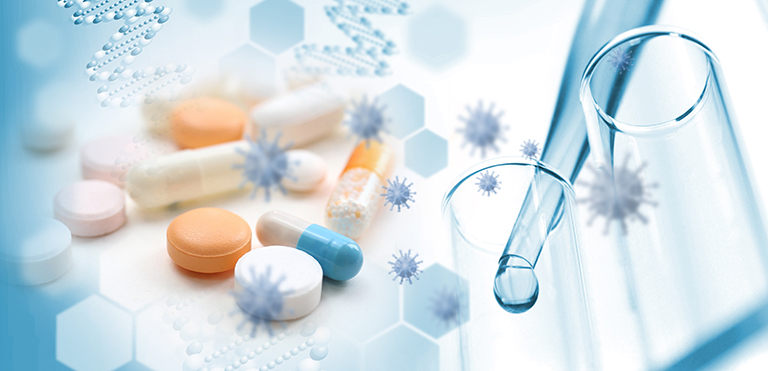 History of InCROM Group
InCROM Group consisting of CRO, SMO and site network services started our full-scale clinical trial support services in 1983. Founded in 1975 as RABITON Farm and later incorporated as RABITON Institute, Inc., we evolved from rabbit farming to non-clinical research supporting the conduct of non-clinical studies such as reproductive toxicity studies, and ocular mucosa and skin irritation studies in rabbits. In 1983, we also supported the establishment of Osaka Pharmacology Research Clinic, a facility specialized in clinical trials. As part of the InCROM Group affiliated clinical trial site network, together with Heishinkai Medical Corporation and other core affiliates, and InCROM SMO, InCROM CRO (incorporated in 2010) provides clinical trial support services across a wide array of indications.
InCROM CRO
Being part of the InCROM Group, InCROM CRO leverages on the group resources and collaborations with InCROM (SMO) and affiliate Heishinkai Medical Corporation (Heishinkai) to offer our clients synergies leading to clinical conduct efficiency enhancement. Both InCROM (SMO) and Heishinkai have a wealth of experience and knowledge in clinical pharmacology, allowing us to provide high quality CRO services on tasks such as clinical trial planning consultation, protocol development, clinical trial schedule management, monitoring, data management, statistical analysis, CSR, and GCP audits.
An equally valuable differentiator is our being a smaller organization managed by a strong team of industry and InCROM experienced experts, which enables us to offer clients with a high level of flexibility and responsiveness to any urgent and/or irregular scheduling or other needs. We also contract with partners to offer clinical trial services and solutions, as well as offer on-demand and/or functional service solutions.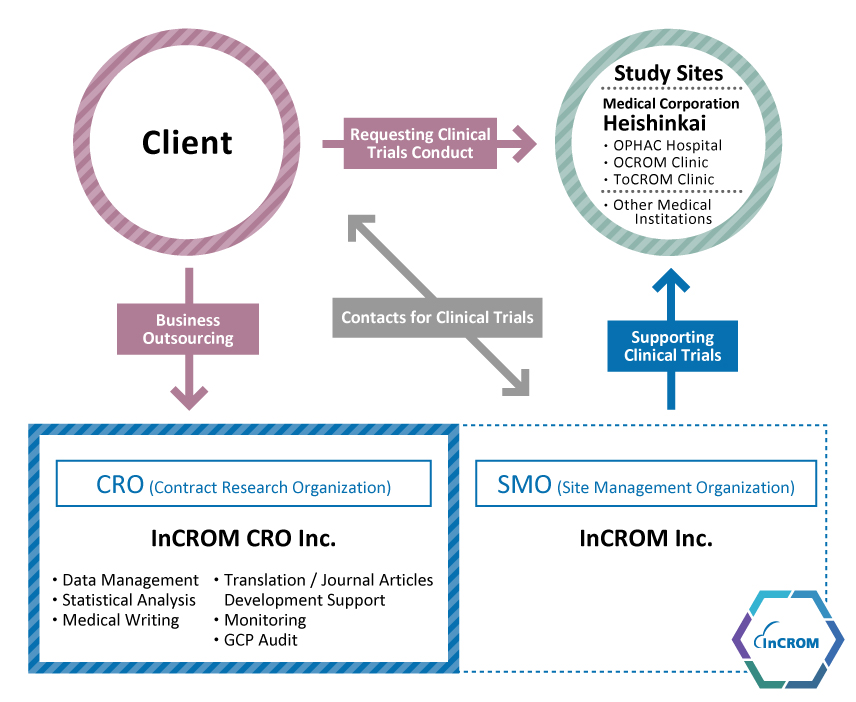 Key Strengths
• Extensive experience in clinical pharmacology
• High level of flexibility and responsiveness
• Service speed and quality
InCROM Group Experience
Below is a list of InCROM supported clinical trials (majority conducted at Heishinkai Medical Corporation sites)
(As of June 1, 2023)
Month/Year
Study Type
Site (Heishinkai site*)
CRO Work Scope*
May 2023
Specified Clinical Research
OPHAC Hospital*
MO, MW, AU
Apr 2023
Phase Ⅰ
OPHAC Hospital*
MO, DM, ST, MW, AU
Mar 2023
Phase Ⅲ
Other medical institutions
MO, DM, ST, AU
Nov 2022
Phase Ⅲ
OPHAC Hospital*
OCROM Clinic*
Other medical institutions
MO, DM, ST, MW
Nov 2022
Clinical research
OPHAC Hospital*
MO, DM, MW
Jul 2022
Phase Ⅲ
OCROM Clinic*
ToCROM Clinic*
MO
Jun 2021
Phase I
OPHAC Hospital*
MO, DM, ST, MW, Audit
Apr 2021
Phase I / Ⅱ
OPHAC Hospital*
OCROM Clinic*
MO,audit
Apr 2021
BE
OPHAC Hospital*
MO
Feb 2021
Phase I
OPHAC Hospital*
MO
Nov 2020
Phase Ⅱ
OCROM Clinic*
MO, Audit
Nov 2019
Phase I
OPHAC Hospital*
MO, Audit
Oct 2019
Phase I
OPHAC Hospital*
MO, DM, ST, MW, Audit
Oct 2019
Phase I
OPHAC Hospital*
MO, DM, ST, MW, Audit
Sep 2019
Phase I
OPHAC Hospital*
MO, DM, ST, MW
Jun 2019
Phase Ⅲ
Other medical institutions
MO, DM, ST, MW, Audit
Jun 2019
BE
OPHAC Hospital*
MO
Apr 2019
Phase I
OPHAC Hospital*
MO, DM, ST, MW, Audit
Jan 2019
Phase I
OPHAC Hospital*
MO
Dec 2018
Phase I
OPHAC Hospital*
MO, DM, ST, MW
Oct 2018
BE
OPHAC Hospital*
MO
Oct 2018
Phase I
OPHAC Hospital*
MO, DM, ST, MW, Audit
Aug 2018
BE
OPHAC Hospital*
MO
Jul 2018
BE
OPHAC Hospital*
MO, DM, ST, MW
Mar 2018
Phase Ⅲ
OPHAC Hospital*
OCROM Clinic*
ToCROM Clinic*
Other medical institutions
MO, DM, ST, MW, Audit
Jan 2018
Phase I
OPHAC Hospital*
MO
Oct 2017
Clinical research
OPHAC Hospital*
MO, DM, ST, MW
Sep 2017
Clinical research
OPHAC Hospital*
ToCROM Clinic*
MO, DM, ST, MW, Audit
Aug 2017
Clinical research
OPHAC Hospital*
MO, DM, ST, MW
Aug 2017
Phase Ⅱ
OPHAC Hospital*
ToCROM Clinic*
MO, DM, ST, MW, Audit
Jul 2017
Clinical research
OPHAC Hospital*
MO, DM, ST, MW
Jul 2017
BE
OPHAC Hospital*
MO, DM, ST, MW, Audit
Apr 2017
Phase Ⅱ
OPHAC Hospital*
Other medical institutions
MO
Mar 2017
Clinical research
Other medical institutions
MO, DM, MW
Jan 2017
BE
OPHAC Hospital*
MO, DM, ST, MW
Dec 2016
Clinical research
Other medical institutions
MO, MW
Dec 2016
Clinical research
OPHAC Hospital*
MO, DM, ST, MW
Nov 2016
Phase Ⅲ
OPHAC Hospital*
ToCROM Clinic*
MO, DM, ST, MW
Sep 2016
BE
OPHAC Hospital*
MO, DM, MW
Sep 2016
BE
OPHAC Hospital*
MO, DM, ST, MW
Aug 2016
Clinical Research
OPHAC Hospital*
MO, DM, ST, MW
Aug 2016
Clinical research
OPHAC Hospital*
MO, DM, ST, MW
Aug 2016
Clinical research
Other medical institutions
MO
Feb 2016
Phase I
OPHAC Hospital*
ToCROM Clinic*
MO, DM, ST, MW
*MO: monitoring, DM: data management, ST: statistical analysis, MW: medical writing