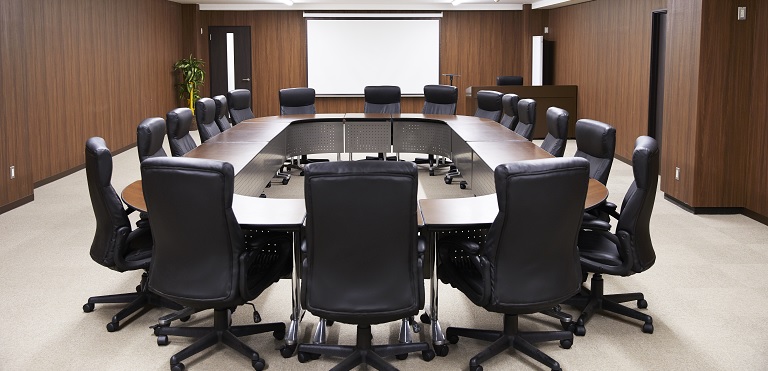 The Central IRB of our affiliated Medical Corporation Heishinkai facilities is fully supported by InCROM. IRB support for clinical trials conducted at other affiliated facilities is also increasing. Please contact us for more information on central IRB and/or the InCROM IRB support details.
OPHAC Hospital IRB
The Institutional Review Board (IRB) of OPHAC Hospital of Medical Corporation Heishinkai was established in 2005. To date, OPHAC Hospital IRB has conducted a large number of central reviews across a wide array of therapeutic areas and indications.
Below are the key strengths of OPHAC Hospital IRB that allow us to cater toward client needs with a high level of flexibility.
• In addition to the frequently and regularly held IRB meetings, Ad-Hoc meetings are scheduled efficiently and held as needed.
• Consolidated IRB reviews reduce resource load and save cost.
• Full support by experienced and dedicated IRB Office staff
• Documents previews to ensure IRB reviews will be conducted efficiently and effectively.
• Robust Therapeutic Experience
• Electronic-Submission Able
OPHAC Hospital IRB Experience
Number of IRB meetings from 2005 to June 1, 2023: 280
*Number of IRB meetings by the IRB of Osaka Clinical Pharmacology Clinic (OPHAC Hospital's Predecessor; IRB established in 1983): 367
Number of multi-sited trials central IRB reviews (as of June 1, 2023)
| | |
| --- | --- |
| 2-4 sites | 243 |
| 5-9 sites | 23 |
| 10-14 sites | 5 |
| 15 sites | 1 |
Number of initial IRB reviews (as of June 1, 2023)
Healthy Volunteer Trials
| | |
| --- | --- |
| Phase I trials (excluding FIH and FIJ) | 236 |
| FIH (First in Human) | 30 |
| FIJ (First in Japanese) | 19 |
| Bioequivalence | 144 |
| Bioavailability | 11 |
| Patch Tests | 4 |
Patient Trials
| | |
| --- | --- |
| Endocrinology and Metabolism | 124 |
| Ophthalmology | 78 |
| Cardiovascular | 24 |
| Respiratory | 18 |
| Otorhinolaryngology | 17 |
| Dermatology | 10 |
| Orthopedics | 9 |
| Neuropsychiatry | 9 |
| Nephrology | 6 |
| Urology | 5 |
| Gastroenterology | 3 |
| Gynecology | 2 |
Central IRB Support Services
InCROM serves as a single point of contact between sponsor and IRB. Sponsor requests collected are reviewed carefully and thoroughly before IRB is consulted. Contracting with trial sites and IRB fees processing are also part of the support service scope, ensuring efficient and smooth progress across all IRB procedures.
IRB fee is from JPY300,000 for initial central review. Upon request, we will provide you with a cost estimate within a short turnaround time.
We are committed to providing the best level of support possible to meet all client needs, and will attend to every detail in a timely and professional manner.
Operational Structure and Flow
As shown in the operational flow diagram, InCROM provides full IRB support to sponsors and facilities, and makes every effort to ensure optimal streamlining of the central IRB procedures.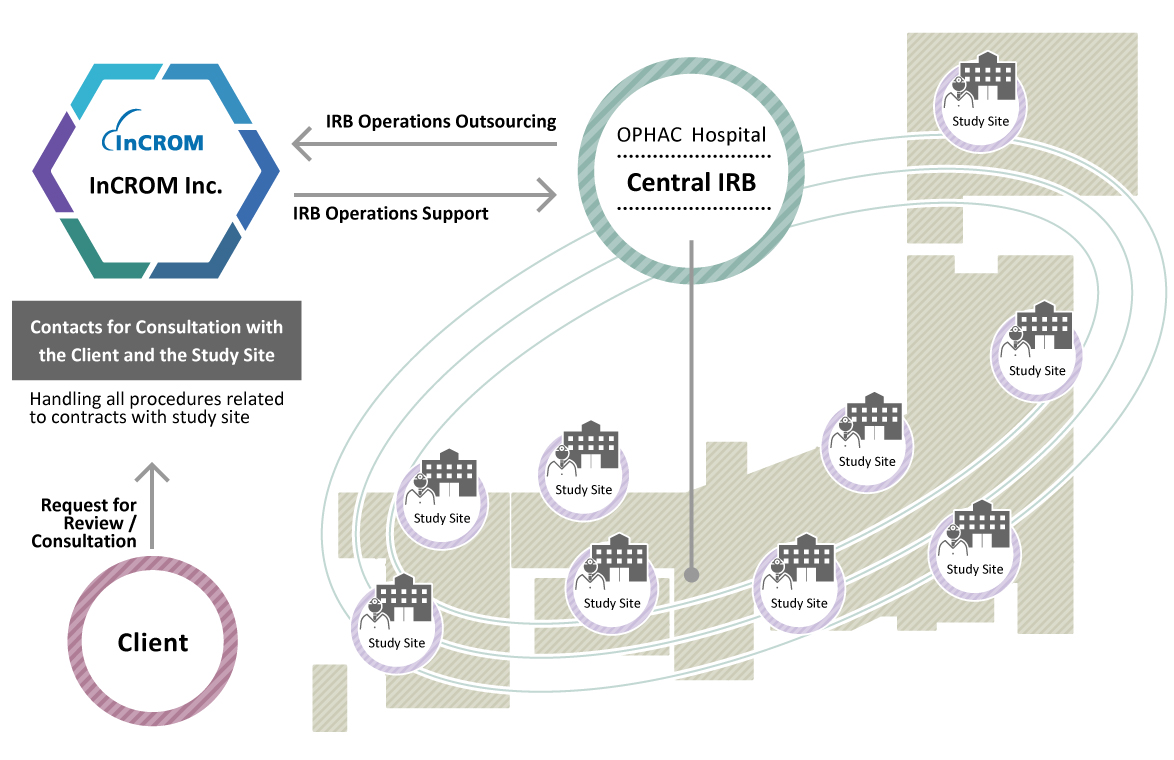 IRB Review Procedures
IRB experience, schedules, and details of the review procedures are available on the website of Heishinkai Medical Corporation. Also, the IRB procedure manual and summary of IRB meeting records can be downloaded from the website.
Frequently Asked Questions
Q1: This is our first time to request for an IRB review, and we are concerned about whether we have sufficient materials to be submitted or not.
A1: Our dedicated IRB staff will handle everything from preparation to the actual review request in a user-friendly and professional manner.
Q2: How should we request for a review?
A2: First, please select "Institutional Review Board/Ethics Committee" in the "Inquiries" section of the Heishinkai inquiry form, and provide the details of your request. Our IRB Office staff will contact you to provide a detailed explanation of the schedule and procedures.
Q3: What are the advantages of using OPHAC Hospital Central IRB?
A3: Both the sponsor and the trial sites have the following advantages:
Advantages for the sponsor:
By collectively reviewing and processing the submission documents of a clinical trial to be conducted at multiple sites, there is no need for duplicate review procedures, and the burden associated with the review procedures, personnel, and costs involved will be reduced. In addition, we have supported many trials thus have the experience and know-how to conduct high quality and thorough reviews. Our experience and know-how also help ensure our review time is minimized, which means your trial start-up timeline can be shortened.
Advantages for the facilities:
The burden associated with the review procedures at the site IRB will be reduced, and maintenance costs will also be reduced.
Q4: What kind of amendments are often requested by OPHAC Hospital IRB to be made on the review materials?
A4: Most of the amendments requested by the IRB are "Approval with modifications" and they are those in the informed consent document. These documents are reviewed carefully from the standpoint of the volunteers, e.g., Are the expressions easy to understand? Are they misleading? Is all necessary information given in the document?
Q5: Is it possible for OPHAC Hospital IRB to review a clinical trial involving genetic analysis research?
A5: Yes, it is possible.
Q6: Is expedited review possible?
A6: Expedited review is possible for clinical trials which have already been approved and amendments in the trial are only minor amendments that do not affect the conduct of the trial. The IRB chairperson will decide whether an expedited review is possible or not. For specific details, please refer to the Procedures for the IRB (see "Procedures and Forms" in "Procedures for Clinical Trials").